Relax & Enjoy. It's Your Wedding Day!
PFEM Hall & Banquet Center is the premiere location for all your wedding events leading right up to the BIG DAY! We have 2 beautiful halls that can accommodate 40 to 275 guests. From the engagement party to the wedding reception and every special gathering in between, we have everything covered.
St. Louis' Best Wedding Venue & Catering Packages
The PFEM Wedding Team works closely with you every step of the way to coordinate and plan the perfect wedding menu to meet your wishes and budget. In addition to delicious food, we can also assist you with china, linens and any of your decorating needs. We'd be honored to discuss your ideas and save the date for your extra special day! Contact us today to book your personal tour of our exceptional wedding venue. 
Main Hall
The main hall is the largest of our rooms. It can hold up to 275 guests and features full bar service within the hall. It's the ideal location for wedding receptions and other large parties.
Lower Hall
The lower hall is a more intimate venue for smaller functions such as engagement parties, wedding showers or rehearsal dinners. It can accommodate 50 to 80 guests depending on the event.
Let's Plan Your Perfect Day!
PFEM Event Coordinator, Andrew Denney, is looking forward to helping you plan the perfect wedding package.
PFEM Event Coordinator & Executive Chef
Andrew hails from rural Nebraska. At an early age, Andrew learned his way around the kitchen under the tutelage of Mrs. Denney, his mother. After learning skills that only a mother could teach, he was off to culinary school in Omaha. He quickly learned that catering was his passion and honed his skills around the country, catering events ranging from birthday parties, anniversaries and weddings to large corporate events for as many as 600 people. Andrew settled in St. Louis in 2010 and joined the PFEM Hall and Banquet Center in September 2021. We are proud to have Andrew on our team!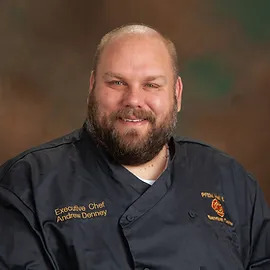 We Have Everything Covered!